Game casserole
Butchers and game dealers often sell chunks of mixed game for casseroling. Adding the right flavours – smoked bacon, bay, juniper and thyme – will give you a special and tasty supper dish (which can also be used as a pie filling), and generally at a good price compared to other game. We like to use dark meat, such as venison leg or shoulder, mallard duck and wild boar, along with paler game (pheasant, rabbit and suchlike). The other trick is to use the best smoked bacon you can buy – the stronger the smoke, the better. As it cooks, it combines with the other ingredients to release a magical wintry aroma.
Serves 6
1 tablespoon olive oil
2 onions, chopped
100g (3½oz) smoked streaky bacon, chopped
2 garlic cloves, finely chopped
1 tablespoon plain flour
400ml (14fl oz) hot chicken or game stock
200ml (7fl oz) red wine
1.25kg (2½lb) game, ideally 50:50 dark and white meat, cut into
3.5–5-cm (1½–2-in) chunks
100g (3½oz) cranberry or redcurrant sauce
2 bay leaves
2 teaspoons fresh thyme leaves, or 1 teaspoon dried
½ tablespoon juniper berries, crushed
225g (7½oz) carrots, cut into matchsticks
225g (7½oz) button mushrooms, trimmed
sea salt and freshly ground black pepper
Pour the olive oil into a large flameproof casserole dish over a medium-low heat. When hot, add the onions and bacon with a little sea salt and plenty of black pepper, and fry until soft (about 10–15 minutes), stirring occasionally. Add the garlic and cook for another minute or so, then sprinkle in the flour. Pour in the hot stock and mix well. Add the wine, bring to the boil and bubble for a couple of minutes to thicken slightly.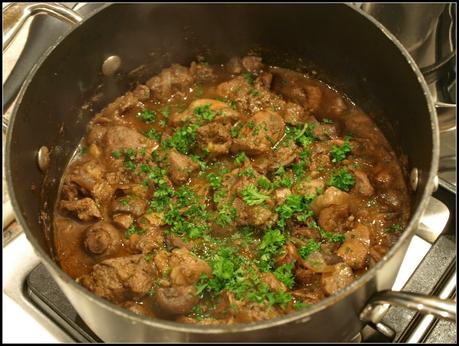 Add the game, cranberry or redcurrant sauce, bay leaves, thyme and juniper berries. Bring to the boil, then cover and simmer for 45 minutes. Add the carrots and mushrooms and cook for another 45 minutes, until the meat is tender. Taste and adjust the seasoning as necessary.
Serve with dauphinoise, baked or sauté potatoes and seasonal vegetables.